Nedtedigibaakoeh Reader
Bokmerke
Drag and drop the following link to your Bookmark toolbar, then click it when you are on a page you wish to read. The service will automatically be installed, and you will see a menu icon on the left-hand side of the page.
In order to look up a word, hold Alt or Option (⌥) and double click the word. The service will will connect to this website and return dictionary entries after a brief pause.
Du kan skifte språk i ordboka ved å klikke på " "menyikonet (Á).
Installering på ei nettside
It is also possible to install the reader plugin on a website, so that users will have access to dictionaries without the bookmarklet.
To do so, follow our documentation.
Nettleserstøtte
Klikk-i-tekst fungerer med følgende nettlesere:
Chrome (version 20 and newer)
Internet Explorer (version 9 and newer)
Firefox (version 18 and newer)
Opera (version 16 and newer)
Feil?
If you encounter bugs, or the bookmarklet does not work on a particular page, contact us with the page URL or details of what you were reading when you encountered the problem.
We do not store any private data, but we do collect individual dictionary lookups for statistics and to improve the dictionary.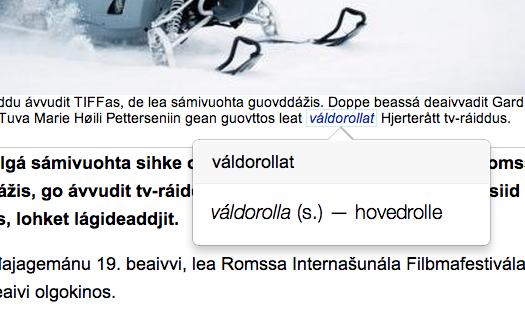 Inkluderer
Åarjelsaemiengïele → Daaroengïele
Daaroengïele → Åarjelsaemiengïele
Hvis du leter etter andre språk kan du se våre andre ordbøker.